Cappadocia, Three Beauties
This international competition calls on young architects from around the world to envision a new natural environment based on living in a scenic and magical landscape. Re-Imagining Cappadocia as an Eco-District competition seeks to extend design insight into architecture embedded and in harmony with the Cappadocian landscape as the focus of Eco-District design.
Re-Imagining Cappadocia as an Eco-District is the international one-stage competition organized by the GAD Foundation in cooperation with Indigo Group that takes place in the Cappadocia Region of Turkey and aims to draw young professionals with a degree in architecture studies (≤ 35 years old) to propose architecture projects with the purpose of increased earthquake-resistance, sustainability, resilience, efficiency, microclimatic solutions and respect for geological and ecological factors. The competition is set in the Avanos district of the Cappadocia Region of Turkey, in a typical Anatolian landscape.
The building is one of the very few endeavors that are physically connected to the surface of the earth, fixed, and enduring. Yet it seems we have a simplistic understanding of its workings. The ground is often used as a passive foundation for going higher, but we can also dig deeper into the rich and endless possibilities of buildings that merge with their surroundings and the earth.
For millennia, people have tried to move away from an environment seen as insecure and hostile. It started as a retreat from natural elements, and now we retreat from each other. We know we need to reconfigure our position about nature, and things have started to shift after a long period of destructive behavior.  (Mastenbroek, 2021)
The story starts with the endeavour of human beings taking shelter in natural caves, competing for them against wild animals, storing the food from scavenging and hunting, or benefiting from rocky spurs to use them as a shield against the harshness of the weather. However, nature is not only a threat to humans but also a countless and ceaseless source of life. The earth is rich and nature nourishes us every day. Architecture is a mediator between humans and nature. That is to say, while architecture protects humans from a fierce natural environment, it also leads humans to the bosom of Mother Nature. This is the basic relationship between architecture and humans. Dutch historian Johan Huizinga explains this relationship in his manifestation of "Homo Ludens" as "Homo Ludens" could be seen as our struggle to highlight human nature deep-seated in our primitive mind concerning a rational or functional matter as well as intuition or play are involved in architecture's primary concern.
Followed by this greatest show of endeavours of human beings on earth, dwelling culture has been the upgraded version of human communities and is shared by different civilizations throughout the world. It is only one among the various codes of different cultures, as others had the tepee (in America), Igloos (in Canada), Hanok (in Korea), Rondavels (in South Africa), or the yurt (in Central Asia). As civilization faced nature's vulnerability and human's detrimental effect performing its role at the centre of this story, the ludicrousness of modern urban was being started questioned. The omnipresent cast of modern architecture with bare formal elements becomes ubiquitous rather than sophisticated. The exclusion of nature and reductionist stance stays at odds with human sensibility and ecosystem services. That phenomenon of urbanization disregarding contextual, geo-morphological, environmental, and socio-ecological circumstances characterizes living environments as complex systems with a focus on the human population, production, and consumption patterns, including the generation of inhabitable spaces and use.
Now, architecture is merging with earth again and is back to basics. With the help of sophisticated advancements in technology, construction methods and structural systems make it easier to build what dream of. However, technological developments never stayed for advancement and paved the way for a downgrade attacking nature and disregarding the context.Indeed, there seems to be increasing interest for humans to escape from the urban environment and suffocate and alienate everyday life. Confinement, silence, and intuitively returning to scenic, fairy, recreative natural spaces are needed. Humans demand reconnecting with one's affection for supernatural fascinations. Notoriously, Cappadocia is garnished with the most intriguing scenarios. With its distinctive rupestrian habitat, culturally diverse but also geographically and architecturally marveling, Cappadocia offers possibilities that contemporary humanity can "quarry" something more valuable and finds that sense of peace and harmony in contemporary society has somehow been jeopardized. In this sense, this is the goal of the "Re-imagining Cappadocia" competition to procure ideas of Cappadocian geological and contextual masterpieces into a retreat and meditation destination for people searching for meaningful experiences away from contemporaneity and immersed in the mystic beauty of a timeless nature. Surrounded by fairy chimneys anguished by the wind and uninterrupted silence, humanity can undertake the escape from civilization that urged the first wise men to retire to their caves in pursuit of a solitary life that has always been considered the most effective recipe for human happiness.
Based on this ideation, the competition's focus is on proposing a nexus of relations between multispecies ethnography and the human/non-human encounter that occurs at the community level highlighting how it helps to create new relational subjectivities. We believe nature and humans coexist and even benefit each other. The competition examines how people should coexist with and within nature. All submissions must consider low-impact building techniques, sustainable design principles, and a self-sufficient and eco-positive lifestyle that benefits the surrounding environment.
GAD Foundation thanks all the architects who will take up this challenge.
 Statement
The main theme of the competition is based on the idea of an "Eco-District" that will host several earthquake-resistant, lightweight, undetectable buildings, structures, and eco-cabins coupled with activities set inside a project area. The vast landscape area will be organized as an Eco-District with agricultural/sustainable/organic production areas, and outdoor activities such as a walking path and zones for physical activity to stimulate exploration and discovery. The Eco-District and primary activities are envisioned to be in and on a network of walking paths and open spaces. The design strategy of the competition will be to retain the natural materials and character of the Cappadocia region, particularly the Avanos region as a nature reserve. The competition calls for a non-invasive approach to the design of the "Eco-District" where ecosystems are supported and new construction is minimized considering many rock-carved dwellings in the Cappadocia and Avanos region flourishing with their scenic beauty and distinctive geo-morphological landscape.
Re-Imagining Cappadocia as A New Eco-District
Ecology is one of the most significant and vital issues in presenting sustainable living areas like eco-cities and eco-villages. Gradually, the development of cities and villages has created environmental damage. However, solutions to minimize this damage are not much studied and documented in a practical sense. One must find a new model of the living areas to fulfill the new community requirements coupled with sustainable developments in urban and village residential areas. As communities grow to focus on common objectives of sustainable, living, and ecological engagement, Eco-Districts emerged as a novel phenomenon placing the concept of sustainability at its center. In Eco-Districts, coupled with sustainability notions referring to a certain style of interacting with nature in the material sense, they involve an ethics of intimacy and care. The natural environment is thought to be an active facilitator of interaction, agricultural production, and habitation. In addition, Eco-Districts should enrich local agricultural practices in producing local products by offering common grounds and gardens that belong to and can be used by everyone. This is the green heart of Eco-Districts; where water is being managed, food is being produced and the spirit of community is being lived.
This design challenge calls for fully self-sufficient Eco-Districts that will coexist peacefully with the surrounding Cappadocian environment in the project site, allowing humans and nature to share the mutual space. It will revolutionize the way we live by offering a fully independent, low-impact way of life that still has access to modern conveniences and technology.
An eco-spa hotel is a type of hotel that combines luxury spa facilities with environmentally sustainable practices and features. This can include using renewable energy sources, implementing water conservation measures, using environmentally friendly building materials and products, and promoting sustainable travel and local cultural experiences.
An eco-vinery restaurant is a type of restaurant that combines dining experiences with sustainable and environmentally friendly practices in the production and sourcing of food and wine. This may include using locally sourced and organic ingredients such as Hevenk, Emir, and Rose grapes reducing food waste, using renewable energy sources and promoting sustainable farming and winemaking practices. The goal is to create a dining experience that is both enjoyable and environmentally responsible.
Environmentally-conscious water sports area is a designated space or facility used for various activities. In Re-imagining Cappadocia as A New Eco-district project competition, participants are expected to design spaces along the Kızılırmak River for water-based recreational activities, such as canoeing, boating, kayaking, and others.
An organic horse farm is an area dedicated to the breeding, raising, and care of horses including stables for housing horses, pastureland for grazing, and training and riding areas for exercise and competition. Horses are very particular to the Cappadocian landscape. The goal of a horse farm is to provide a safe and comfortable environment for Cappadocian horses and to promote their health and well-being, while also supporting related activities such as riding and competition.
Participants are expected to design a nature-sensitive car park for visitors to park their vehicles temporarily. The purpose of a car park is to provide a convenient and accessible space for people to park their vehicles, allowing them to go about their daily activities.
Arcology
Although the term Eco-District did not seem to be used much until the 90s, the concept may in fact be older. Italian architect Paolo Soleri designed a self-sufficient experimental town- Arcosanti – based on the concept of Arcology (architecture + ecology), a term coined by Paolo Soleri in the mid-70s. Arcosanti, a self-sustained experimental town in the desert of Arizona has been under construction since the 1970s and eventually will host 5,000 forward-thinking residents. Arcosanti has an innovative, sustainable, organic, and ecologic way of living maintained by open spaces, the efficient use of resources, compact structures, large-scale solar greenhouses, and systems with an efficient circulation of people and resources, multi-use buildings, and solar orientation for lighting, heating, and cooling. Arcosanti offers a four-week workshop for enthusiasts to study building techniques and arcological philosophy while having an opportunity to contribute to the city's ongoing construction.
Eco-Tourism
The development of Eco-Tourism dates back to the 1960s and 1970s community-based movements. At a later stage, such community-based movements led to the promulgation of development initiatives including tourism. In 1996, the Global Ecovillage Network (GEN) was established in setting up a strong interrelation of eco-districts and intentional communities to share ideas and promote the Eco-Tourism concept. In the context of tourism, Eco-Districts practically affect communities by increasing employment opportunities, revenue-gathering, and the well-being of residents through participatory processes based on indigenous knowledge and local practice capacities. Eco-Districts are often driven by the common motive of curiosity in calling and attracting tourism researchers having diverse motives and research goals.
Well-being
Well-being maximizes the quality of people's lives. Eco-Districts enable society to achieve a higher level of well-being for sustainable development by facilitating appropriate policies, strategies, and designs. To create a high level of well-being, Eco-Districts foster a supportive environment by endorsing the collaborative use of resources tra sectors, space, and time. Eco-Districts are able to combine both human and non-human factors in one well-being-focused governance process.
Ecosystem Services
Eco-Districts have the capacity to restore ecosystems around the world. What they offer, and aim drastically is to reduce CO2 footprint, and present a way more harmonious life with nature. In terms of actively recovering local water cycles, earth, and even local forests, and plants, they have great potential in contributing ecosystem services that include regulating services, provisioning services, cultural services, and supporting services. Eco-Districts shed light on increasing local biodiversity and ecosystem health.
Biophilic Design
Biophilic design is designing for people as biological organisms, respecting the mind-body systems as indicators of health and well-being in the context of what is locally appropriate and responsive. A good biophilic design draws from influential perspectives such as health conditions, sociocultural norms, and expectations, past experiences, frequency, and duration of the user experience, user perception, and processing of the experience. In this field of biophilic design, the Eco-District concept nurtures the inherent human inclination to affiliate with nature in our urban environments and communities. The expected outcomes of Eco-District in the context of biophilic design revolve around dedicatedly reducing stress, improving cognitive functions, enhancing mood and creativity, and boosting productivity.
Degrowth
A degrowth society is described as a decent downscaling of production and consumption patterns that improve ecological circumstances and wellness in the short and long term, both locally and globally. Eco-Districts are discussed to be the spatial organization suitable for implementing localism in the transition to degrowth societies. Degrowth is an encompassing form and concept concerning paths to preserve ecosystems and keep human activities within the biophysical capacity.  Eco-Districts are prominent examples of degrowth communities and society that aims to degrow inequality for economic, social, and environmental justice.
Cappadocia located in the center of Turkey with a history going back to antiquity is one of the most important historical centers. The unique geology and geography of its landscape have affected various housing styles emerging in Cappadocia. Soft stone wearing away over thousands of years has become the iconic form that has become a symbol of Cappadocia and the civilizations in the center of Turkey.
In the Roman period, Cappadocia became the escape and refuge for early Christianity from religious persecution. According to the archaeological research of early Christian civilization, around 3000 stone houses inside and under the ground in the region shaped like churches and chapels became shelters for religious rituals as a network of large underground cities. This combination of religion and residence, open and closed architecture located inside and under the ground, created a system of gaps and masses; a unique and significant legacy, a cultural legacy, and also in terms of its use as a tourism area today, quite an original architecture and a geological morphology…
Avanos is a town and district of Nevşehir Province in the Central Anatolia region of Turkey, located 18 km (11 mi) north of Nevşehir, the province's capital city. It is situated within the historic and tourist region of Cappadocia. According to the 2000 census, the population of the district is 35,145 of which 12,288 live in the town of Avanos. The district covers an area of 994 km2 (384 sq mi), and the average elevation is 920 m (3,018 ft), with the highest point being Mt. İsmail Sivrisi at 1,756 m (5,761 ft).
The old city of Avanos, whose name in ancient times was Venessa, overlooks the longest river in Turkey, the Kızılırmak (Red River), which also separates Avanos from the rest of Cappadocia. The most famous historical feature of Avanos, which is still relevant and very visible today, is its production of earthenware pottery; it is also the most economic activity in the town. The ceramic trade in this district and its countless pottery factories date right back to the Hittites, and the ceramic clay from the red silt of the Kızılırmak has always been used. It is a popular destination because of its attractive old town with cobbled streets, and views over the river.
Participants must upload the following materials to correctly take part in the competition:
Maximum 3 A1 board (841 x 594mm) in .pdf format, maximum size 10 MB, horizontal or vertical layout, to be sent to apply@gad.foundation
This layout must contain:
design concept / conceptual idea;
graphic framework aimed to illustrate the project (e.g. plans, facades, cross-sections) – the choice of what to display and at which scale is up to the competitor's
choice;
iii. 3D views (e.g. renderings, model pictures, hand sketches);
iiii. A rendered film of 1 minute in total explaining your design.
File name: A1_TeamID_ED.pdf (i.e. if "TeamID" is 123, the file must be named A1_123_ ED.pdf)
1 A3 album (420mm x 297mm), .pdf format (maximum size 10 MB), horizontal layout, maximum 7 pages (boards) long, to be sent to apply@gad.foundation
The A3 album must contain:
one general plan on a 1:500 scale;
significative plans on a 1:200 scale;
at least one significant cross-section on a 1:200 scale;
File name: A3_TeamID_ED.pdf (i.e. if "TeamID" is 123, the file must be named A3_123_ ED.pdf
1 cover .jpeg or .png format 1920×1080 pixel size. It should be a relevant image showing the project that will become its avatar icon:
File name: Cover_TeamID_ED.jpg (i.e. if "TeamID" is 123, the file must be named Cover_123_ED.jpg)
Texts must be brief and written in English. The materials cannot contain any name or reference to designers. The materials cannot report the Team ID number on them. This number is only meant to appear on the file name since the jury will not be enabled to seeing it during the voting procedure.
Agriculture
When visiting Cappadocia in 400 BC, Xenophon, a student of Socrates, reported seeing goats, sheep, cows, and poultry fed on straw and hay. "Corn, rice, vegetables, and barley beer was stored in large pots," he wrote. In the Cappadocia region of Anatolia – Asia Minor –, people have lived underground in rock-carved caves and tunnels for ages. The underground metropolis is now used as a storage facility for enormous amounts of agricultural products including potatoes, citrus, and pumpkin around the region in different towns and villages of Kavak, Nar-Cat, Ortahisar, Mazı, Kaymaklı, and Derinkuyu, while also creating resources to sustain and strengthen existing and future communities both during Anthropocene. Beneath the earth, things appear more intriguing; a network of caves that are connected to what were once enormous underground towns up to 20,000 people formerly lived in Derinkuyu, a town in southern Cappadocia, for instance. Thousands of tonnes of fruit and vegetables can be stored in the caves and underground tunnels due to the constant temperature of about 13C, which allows apples, cabbage, and cauliflower to stay fresh for up to four weeks, and citrus fruits, pears, and potatoes to stay fresh for months. The main agricultural products in Cappadocia are Pumpkin Seeds, Grapes, Potatoes, Dry Beans, and Rye.
Soil Effect
Complex geo-ecological systems comprised of landscape, soil, water, crust, stones, climate, and biological systems are severely affected by changes in nature and human interaction. This correlation of symbiosis requires detailed knowledge of geo-ecological processes and is crucial for understanding our past, current, and future environments. In this respect, Cappadocia and Avanos highlight spatial, environmental, natural, geological, ecological, social, climatic, archaeological, and historical process studies of the dynamics and properties of the context in the design. Soil characteristics of the region comprehensively play a crucial role in geology, topography, and geologic history combined with ecological upgrading in the designing and building process. Thus, strong soil characteristics are well geo-ecological dynamics that can deepen our understanding of different processes determining the functioning of nature and structural systems. In addition to this, minimizing the "embodied energy" — which is the amount of energy and fuel used to process buildings and products — by utilizing raw, local materials out of the soil and local territory wherever possible is another crucial contextual necessity as it offers surprising sustainable solutions that deal with climatic and hydrographical conditions.
Micro-Climate
The climate of Cappadocia is continental. Hot & sunny weather in summer and cold & arid weather in winter are observed but the altitude provides cool nights. Despite there being a continental climate outside the region of Avanos, because of being located in the valley and there is a climate close to the Mediterranean climate, Avanos is a natural microclimate area with this feature. This notion of a microclimate, places for human habitation that optimize climate and functional needs, may become a wider architecture and urban strategy. Due to this climate, the vegetation of the valley is different from the area outside the valley. Outside the valley is stepped-looking and undersized vegetation dominates. In some parts of the region, a rich and green piece of nature is still preserved. Accordingly, a wide variety of plants, mainly pistachio nuts are grown on the valley floor.
Heat Effect
The old, soft tuff turning into tuff after going through thousands of years of erosion, turned into the iconic shape of the numerous "fairy chimneys" becoming the region's visual identity. Furthermore, these iconic creations and the territory also offer surprising sustainable solutions that deal with climatic and hydrographical conditions and with the ecosystem; the environmental impact is compatible with the resources of the places. Iconic rock-cut buildings are carved in the tuff layers and the whole structure is constituted in this rock layer. The "Valley of the Dovecotes," also known as Pigeon Valley is very close to Avanos. Many dovecotes have been carved into the valley's cliff faces over the years creating large frontal surfaces. Many niches are formed inside these surfaces for local birds to roost in. Their characteristic porous structure including caves, nooks, or cavities is useful for providing heat insulation.
Geological / Morphological Stratification
As a result of erosion and earthquakes, parts of these morphological formations are now in the open air. In Byzantine times, they served as both cloisters and residential spaces. The fairy chimneys that are dotted around the countryside add a unique and particular character to the area. It was likely constructed out of tuff (a form of rock particular to the region) and used to secure the fortress's water supply and act as a link to the outside world. Many dovecotes have been carved into the valley's cliff faces over the years creating large frontal surfaces. Many niches are formed inside these surfaces for local birds to roost in. Avanos region is an important area representing the characteristics of the tertiary cover units and their relationship to the basement rocks of the Central Anatolian Crystalline Complex including alkaline plutonic rocks in the area. In the area, particularly along the Central Kızılırmak river, or "Red River," travertine rock formation occurrence is visible. In Ziyaret Tepe and Göynük area, marble formations as blocks are observed. The geological formations Avanos in general have the characteristics of CACC with its complexity in petrographical, mineralogical, and structural features.
Thermal/Health/Experience
We are in a period when new experiences are required for an ever-expanding global culture. Especially within this context, the Avanos region presents impressive experiences regarding human-nature interaction and comfort with the effect of the environment end ecology. The underground water is a geothermal energy source for natural thermal hot springs observed in the region making water an important natural resource that must be seen as a symbol of architecture. For this reason, water is used as a visible feature with a symbolic and spatial effect. A healthy microclimate is to be created with the combination of the natural geothermal underground water and the dry air of the high Cappadocia plateau. The natural rock texture while connecting the potential spaces with the effects of skylights opens up and creates a surprising and magical visual effect. A thermal spring and natural dams in the region become the basis of the lagoon that was integrated into the project.
JURY
Zoë Ryan is Daniel W. Dietrich, II Director of the Institute of Contemporary Art, University of Pennsylvania. She joined the ICA in November 2020. Prior to the ICA, she was the John H. Bryan Chair and Curator of Architecture and Design at the Art Institute of Chicago (AIC). At AIC, she founded the contemporary design collection and set the vision for collecting and exhibiting modern and contemporary architecture and design as expanded fields of practice in dialogue with the socio-political conditions of the times. Her recent exhibitions include, In a Cloud, in a Wall, in a Chair: Six Modernists in Mexico at Midcentury (2019), which made better known a critical transnational network of artists and designers active in Mexico in the post-revolutionary period, and Past Forward: Architecture and Design at the Art Institute, a major installation of the modern and contemporary architecture and design collections (2017–ongoing). In 2017, she edited As Seen: Exhibitions that Made Architecture and Design History, the first volume to explore in depth the important role that exhibitions have played in the history of these fields.
Her past exhibitions include: Making Place: The Architecture of David Adjaye (2015); Fashioning the Object: Bless, Boudicca, and Sandra Backlund (2012), and Bertrand Goldberg: Architecture of Invention (2011). In 2014, she was the curator of the second Istanbul Design Biennial, The Future Is Not What It Used To Be. Ryan has taught graduate seminars on curatorial studies and design history and theory at the School of the Art Institute of Chicago and the University of Illinois at Chicago. She is a member of the Design Trust International Advisory Council, Hong Kong, and of the Executive Committee of the International Confederation of Architecture Museums (ICAM).
Ayako Ezaki is the Director of Training Strategies & Development at TrainingAid, an international tourism training company supporting industry professionals with skills development opportunities in sustainable tourism. Having worked for more than a decade in tourism professional training and education, Ayako specializes in educational program design, training facilitation, and project planning.
She has supported projects such as DestiMED Plus and the Mediterranean Experience of Ecotourism (MEET) Network and the PM4SD (project management for sustainable development) for European Travel Commission. In addition, she has contributed to various publications, including "Sustainability in the Hospitality Industry: Principles of Sustainable Operations" (2021), "Have Fork Will Travel: A Practical Handbook for Food & Drink Tourism Professionals" (2014), and "Sustainable Tourism & the Millennium Development Goals" (2012). Through TrainingAid's partnership with the Global Sustainable Tourism Council (GSTC), Ayako facilitates the GSTC Sustainable Tourism Course.
David Basulto is a Chilean architect and co-founder of ArchDaily, one of the world's most popular architecture websites. He was born on February 27, 1977, in Santiago, Chile. Basulto studied architecture at the Pontifical Catholic University of Chile and later received a Master's degree in Architecture and Urban Culture from the same university.
In 2008, Basulto co-founded ArchDaily with his friend and colleague David Assael. The website started as a simple blog but quickly grew to become one of the leading sources of architecture news, projects, and inspiration worldwide. Today, ArchDaily attracts millions of visitors every month and has become an essential resource for architects, students, and enthusiasts around the globe.
Basulto has received numerous awards and honors for his work with ArchDaily, including being named one of the "100 Most Creative People in Business" by Fast Company magazine in 2014. He is also a frequent speaker at architecture conferences and events and has written for several architecture publications.
Dr. Elif Erdine is an architect, designer, and researcher. She is the Director at Emergent Technologies and Design Post-Graduate Programme (EmTech), at the Architectural Association (AA) School of Architecture. The research agenda of EmTech focuses on investigating new synergies of architecture and ecology through the critical intersection of computational design and fabrication.
Her research interests comprise the integration of algorithmic generative design with robotic fabrication techniques. Her Ph.D. thesis has focused on developing a generative system of design that offers simultaneous integration and differentiation throughout the subsystems of a concept for a tall building during the conceptual design phase. Her wider research interests include biomimicry, complex adaptive systems, and robotic fabrication. She has published and presented her research in Design Studies, eCAADe, CAAD Futures, SimAUD, and ACADIA, among others.
Ferda Kolatan is a founding director of SU11 Architecture + Design and an Associate Professor at the University of Pennsylvania Weitzman School of Design. He received his Architectural Diploma from the RWTH Aachen and his MS. in Advanced Architectural Design from Columbia University. SU11 is an internationally acclaimed practice based in New York City and dedicated to conceptual and material exploration at the intersection between contemporary culture, technology, and design. SU11's work has been exhibited at MoMA, FRAC Center, Walker Art Center, Vitra Design Museum, Art Basel, Artists Space NY and participated in the Venice, Beijing, and Istanbul Biennales.
CONSULTANT
The Indigo Group was founded by CEO, Mr. Ömer Tosun, in Cappadocia in 1992. From its very first day, Indigo Group has successfully been a pioneer with every investment made, especially with its tourism initiatives in the Cappadocia Region. As well as the tourism industry, Indigo Group has invested in the sectors of geothermal energy and agriculture & viniculture and owns the brands Museum Hotel, Indigo Geothermal, Matiana Travel, Boutique Style Travel, Lil'a Restaurant, Indigo Agriculture, Indigo Gallery, Cross Golf, and le Musee. Always acting on the principle of investing in the most original, and innovative ideas, the group aims to carry out quality original projects, especially in luxury tourism and geothermal energy.
Whatever you do, always do the best and the most original!

Omer Tosun

Founder of INDIGO
Omer Tosun
Founder
Indigo Group of Companies
TOLGA TOSUN
Vice President
Indigo Group of Companies
All awarded projects will be sent to websites, magazines and architectural platforms. Furthermore, they can be displayed in national and international architectural events.
Jiawei Liang | Leung Karwai
PROJECT NAME
Anthropo Museum
AWARDS & MENTIONS
GOLD MENTION
Jesus Frias-Garrett Wiese
AWARDS & MENTIONS
HONORABLE MENTION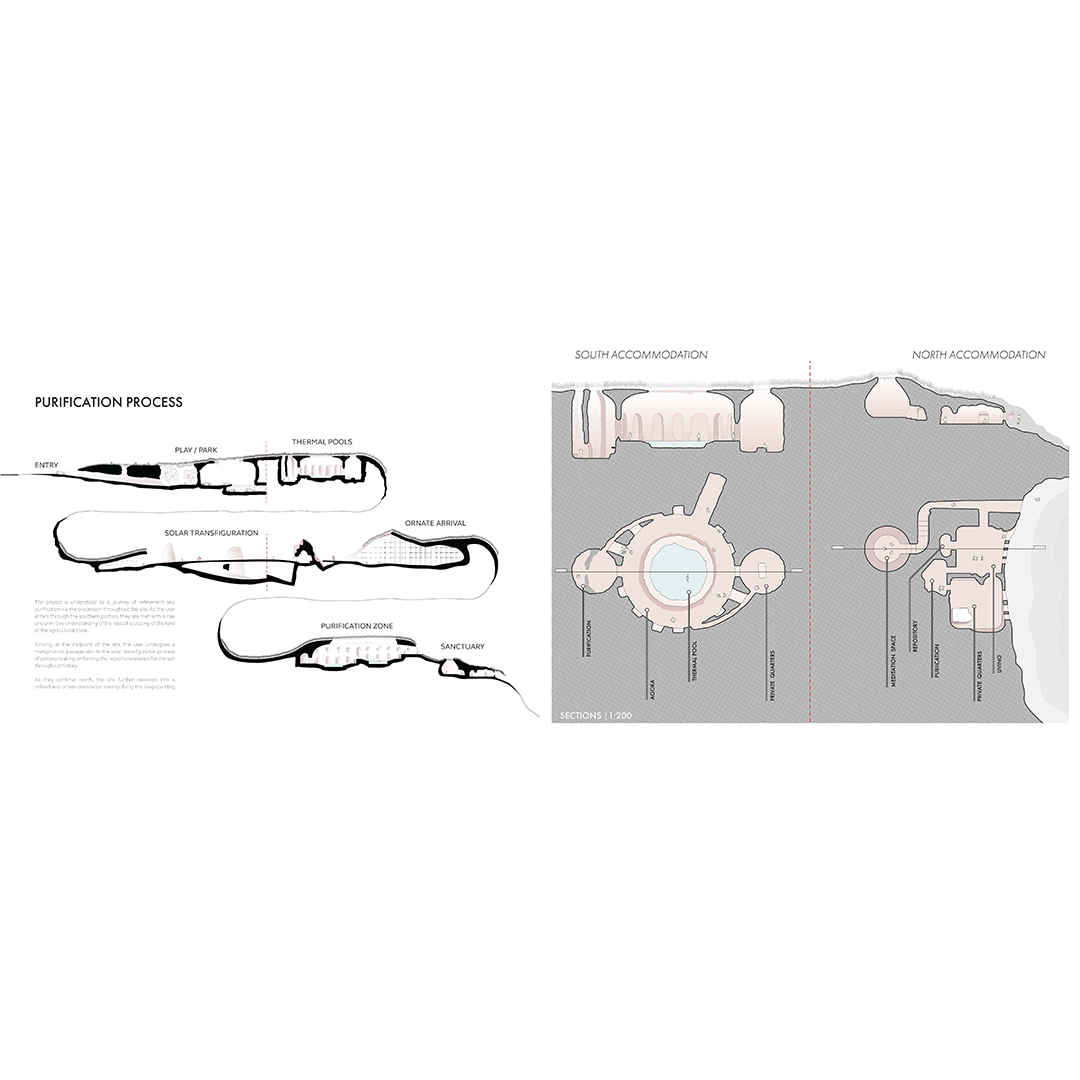 AWARDS & MENTIONS
HONORABLE MENTION